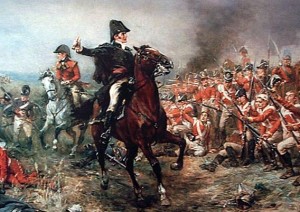 Last year I started to delve into the wonders of the Georgian era, with a particular interest in the rather profound and sweeping impact it had across the globe. The unification of the UK into a single nation, growing industrialization, faltering colonialism, the Enlightenment, the revolutions in the US and in France, and a world at war for almost half a century, fomented massive changes in society, technology, the arts and warfare. Changes that unequivocally shaped our modern world.
Obviously, this is a period ripe for adventure gaming and it is little wonder to me that it became one of the most common subjects for wargaming enthusiasts, rivaling the American Civil War and WWII in popularity during the golden age of the hobby. Fantasy, on the other hand, was looked down upon in many circles, the historical exploits of real armies and genuine heroes much preferred over the doings of magical warriors, mythological monsters and *gasp* elves!
And then came Gygax.
Gary loved wargaming, but he was also a huge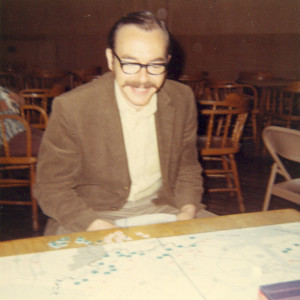 fan of fantasy and pulp sword & sorcery stories. For him, mixing the two was the chocolate peanut butter cup of gaming, and, despite the grumbling of the grognards who considered fantasy to be childish, his fantasy supplement for Chainmail would eventually spark greater interest in, and establish a beachhead for, future games in that genre. His seminal work, Dungeons & Dragons, would cement that foothold and see fantasy and science-fiction outstrip historical gaming in sales, to become the lingua franca of the gaming industry in specific, and pop-culture in general.
Gary Gygax was, in Malcolm Gladwell's terms, a Super-Connector: a combination of Connector, as a man who had wide connections across gaming circles; a Maven, as a man who had a expansive knowledge of wargaming and eclectic taste for pulp literature; and a Salesman, as a person who could mass-market fantasy, and the idea of single character wargaming, and take it from a smaller niche in an already niche hobby, and turn it into a cornerstone of popular culture.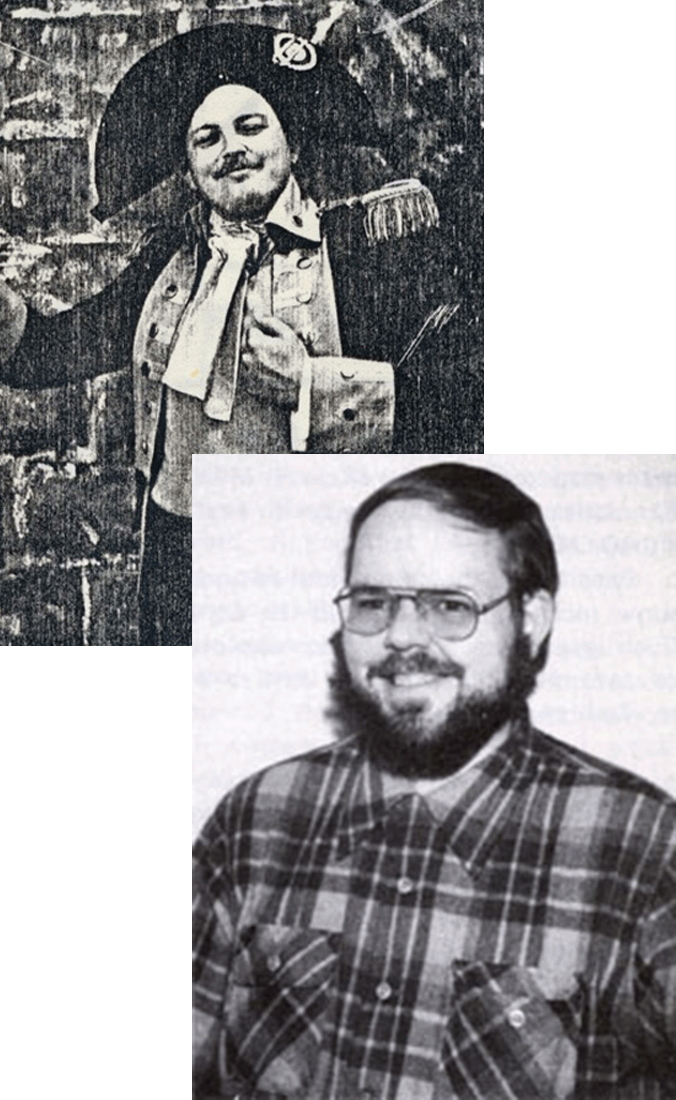 Sure, Dave Wesley (top right) is the (criminally unsung) grand-pappy of refereed role-playing as a gaming exercise, and Dave Arneson (bottom right) took his ideas and ran with them, creating the basis of what is probably the most novel (in every sense of the word) game idea ever created. And the timing was right, too, with a whole generation discovering Tolkien and Howard, and watching Star Trek, and a host of other science fiction and adventure programs on TV. But Gary refined the idea from Dave's copious (and disorganized) notes, spread the word, and convinced people to play it.
But what if there was no Gygax?
What if Gary had never been fired from his insurance job, and as a result, had never become an editor at Guidon Games or produced Chainmail with its fantasy supplement? The timing was right, the idea was 'sticky', but what if, instead of Gygax, someone else fell into his place ? Someone who, while still as avid a gamer, was much more interested in the exploits of Wellington and Nelson over those of Conan and Gandalf?
Would the first RPG had been of a more historical bent? And how would that have affected the history of gaming and popular culture from that point on?
DONJONS & DRAGOONS: Rules For Napoleonic Wargames Campaigns Playable With Paper And Pencil And Miniature Figures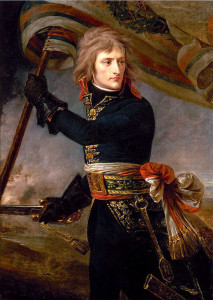 While D&D did, indeed, greatly influence modern culture, so did Star Wars and Marvel Comics (whose Savage Sword of Conan brought Howard's creation back from the depths of obscurity). And as the RPG concept quickly blossomed to encompass other genres, from science fiction (Gamma World, Traveler), to historical (Boot Hill), to the bizarre (Burrows & Bunnies), in a few scant years, fantasy would have surely followed in short order. Would fantasy's influence over the geek-sphere have been reduced, somewhat, by the lack of D&D? That is a question academics could argue about until the end of days, so I intend to focus, instead, on what the first RPG, itself, might have looked like if another, more historically minded author, had taken the reins of the RPG revolution. And then build it.
I am going to imagine that this hypothetical author (read: me, born 30 years earlier) played in Dave Wesley's original Braunstein games, and hobnobbed with Duane Jenkins (Duuuuuaaaaaane Jenkins!) and Dave Arneson (who I'm disinclined to believe would have ever managed to make the idea a commercial success, being the William Dawes to Gygax's Paul Revere). This person would have taken part in creating 'Brownstone' and then branched off with his own versions. And while I do believe he would have based the mechanics off of wargaming precepts common at the time, I'm going to assume he was more of a traditional writer than Gygax, most likely a professional educator who saw the value of the format for teaching history (which I plan to do), and the RPG design will reflect that in tone and function.
I'm also going to assume he would have the same resources as Gygax did, by which I mean to say that I still plan to use modern tech (i.e. Adobe CC, not traditional paste-up, since I'm an academic, not a masochist), but the end result should have a look and feel very similar to the original set, with the typefaces, layout and general production values of a small press product from the early 70's.
Now, if I were actually working in a university and doing this as a research project, I would endeavor to put a lot more research and time into making it uber-authentic (deep research and personal interviews with those who were there, no anachronistic references or systems, reliance on outside materials and knowledge to play, etc.) with little regards to how well it will sell. However, since I'm (still) not and it's not, I'm just going to treat it as a paying product that also happens to be an interesting intellectual and artistic exercise.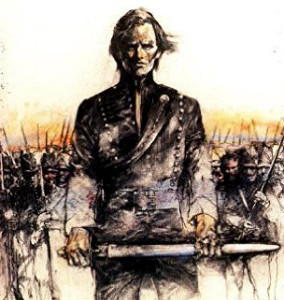 This means I will take a few liberties here and there, and be a little less OCD in the 70's-history-details department, to make it marketable and playable. I won't worry too much over whether a mechanic could be considered too 'modern' if it gets the job done, for example, and Cornwell and O'Brien will be as influential as Forester and Tolstoy, despite the fact that their series were written much later (especially Cornwell, whose Sharpe novels are the inspiration for sample characters like Dick Blunte and Sgt. Lyre). Despite a few, niggling, anachronisms, however, the end result should be very close to what I believe D&D could have been.
Now that I have my goals and limitations sorted, I'll begin the actual game design process, which I will document on this blog in future posts…