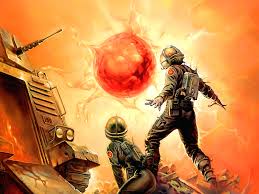 I like to use my personal blog as a game design diary. I first started the practice on the Strange Stones blog site, with Barbarians of Heavy Metal, and I found it to be an excellent way of not only keeping track of my thought process as I work through the particulars of a game (without wasting and losing reams of paper), but also to invite comments from others that can influence the final product early on and save me a lot of work re-writing the final document.
The first thing I like to do is create an outline. I know a lot of writers who think outlines are unnecessary and sign of inexperience, but of all the things I learned in High School, I find the humble outline to be one of the most useful tools for organizing thought and speeding up the writing process. To this day I use them for script-writing, fiction writing, technical writing and game design. In the case of an RPG book, they make a convenient table of contents, like the one for my upcoming game, Void Hunters…
Chapter 1: Introduction
● How to Use This Book
● Setting Assumptions – What is Seventies Science Fiction?
● New Rules
Chapter 2: Characters
● Defining Setting Assumptions about PC Classes
● Redshirts – Level 0 Characters
● Soldier
● Scientist
● Scout
● Officer
● Psychic
● Synthetic
Chapter 3: Psionics
● Rules
● Psionic Disciplines
● Power Listings
Chapter 4: Gear
● Defining Tech Level in your Setting
● Acquiring Gear – Resource Checks
● Standard Gear
● Combat Gear
● Servitors
● Psychic Gear
Chapter 5: Starships
● Defining Space Travel in your Campaign
● Acquiring a Starship
● Running a Starship
● Fighting a Starship
● Starship Construction
● Starship Modules
Chapter 6: New Worlds
● Sector Generation
● Star System Generation
● World Generation
Chapter 7: Alien Menaces
● Defining Setting Assumptions about Aliens
● Random Species Generation
● Sample Alien Flora
● Sample Alien Fauna
● Sentient Civilization Generation
● Alien PCs
Chapter 8: Exploring the Darkness
● The Interstellar Sandbox
● Hazards of the Void
● The Planetary Sandbox
● Planetary Environments
● Lost Civilizations
● Hulks
Chapter 9: Missions & Campaigns
● Player Unit Organization
● Mission Generator
● Dungeons In Spaaaace
● The Wider Universe
● Mission 1: The Lost and the Damned (Level 0 Hulk Recovery Mission)
● Mission 2: The Pyramids of Pyxis (level 1 Planetary Exploration Mission)
This not only helps me to organize my book, but also gives me a good idea of about how long this book is going to be. About 160 pages, methinks.
Over the next couple of weeks, I'm going to let Void Hunters come to a slow boil on the back-burner of my brain as I work on my other projects. I'll be posting whatever bubbles to the surface here. By the time November gets rolling along, you should see a game slowly forming…