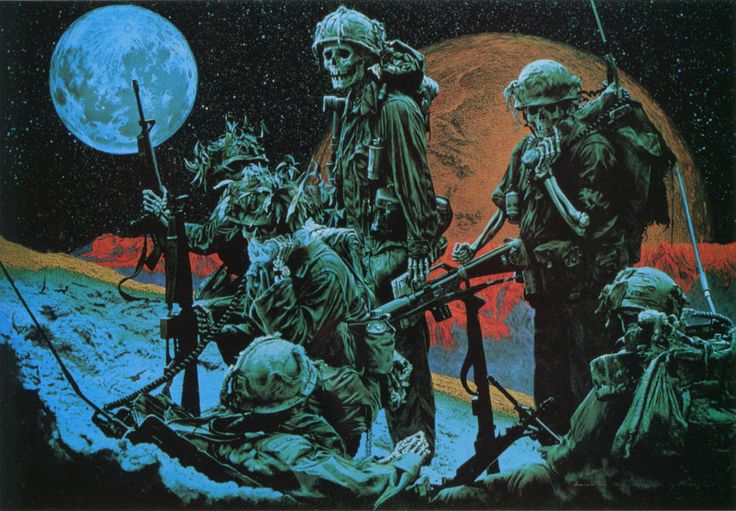 Every Redshirt has a regular job before being sent to meet their destiny in The Meatgrinder, and in Void Hunters there will be three separate tables to generate one for your level-0 character: Military, Corporate and Civilian.
Which table you use will be up to the guy running the game. They may want to keep character generation focused on one table for their campaign, which may be specifically centered around military expeditions to expand the borders of the empire, corporate survey teams seeking new resources for exploitation or civilian traders prospecting in the void to find the big haul that will make their fortunes and allow them to retire in style. On the other hand, they may not care where your characters come from and may allow Civilian Contractors to sign on the Military Ships with Corporate survey teams.
Some of the tables allow for cross pollination of occupation types, so a military expeditionary team  may well find a Corporate Liaison on board their ship and there is special occupation, Weird, on all the tables that allows for the more off the wall possibilities, like Rogue Synthetics, Alien Infiltrators and Corporate Spies.
All occupations start off with some very basic equipment and some, like Synthetics, have special rules or abilities. For examples, check out the Military Occupation Table…
MILITARY OCCUPATION TABLE
| | | | | |
| --- | --- | --- | --- | --- |
| 3D6 | OCCUPATION | WEAPON | EQUIPMENT | SPECIAL RULES |
| 1 | COMBAT DRONE | Plasma Rifle, Combat Knife | Full Combat Armor | Synthetic – STR+3, AGL+3, END+3, PER-3, LUCK 0Tech Base – CombatInhibition – Follow orders of direct COC and deactivate when given code word by those in direct COC. |
| 2 | PROTOCOL DRONE | Stylus | Translation Matrix | Synthetic – STR-3, AGL+3, END+3, PER+3, LUCK 0Skill Focus – Linguistics & ProtocolInhibition – Cause no intentional offense |
| 3 | RESEARCH DRONE | Laser Probe | Portable Scanner | Synthetic – AGL+3, INT+3, END+3, PER-3, LUCK 0Tech Base – ScientificInhibition – Do not deviate from scientific method, gather all data |
| 4 | TRANSPORT DRONE | Ballistic Pistol, Combat Knife | Vehicle | Synthetic – STR+3, AGL+3, END+3, PER-3, LUCK 0 Tech Base – TransportInhibition – Get passengers to destination without harm. |
| 5 | MEDICAL DRONE | Laser Scalpel | Med-Kit | Synthetic – AGL+3, INT+3, PER+3, LUCK 0Skill Focus – Medical DoctorInhibition – Allow no harm to come to patients. |
| 6 | PYRO | Flame Pistol, Combat Knife | Matches | Psion (Pryokinesis), Rank – 2nd Lieutenant |
| 7 | CHUCK | Combat Knife | Steel Ball Bearings | Psion (Force Throw), Rank – 2nd Lieutenant |
| 8 | SHADOW | Pistol, Garrote | Silencer  | Psion (Mind Cloud), Rank – 2nd Lieutenant |
| 9 | SNIFFER | Stunner | Migraine Pills | Psion (Read Thoughts), Rank – 2nd Lieutenant |
| 10 | MP | Stun Pistol | Mag-Cuffs | Tech Base – Combat, Rank – Private |
| 11-12 | TROOPER | Assault Rifle, Combat Knife | Full Combat Armor | Tech Base – Combat, Rank – Private |
| 13-15 | TECHNICIAN | None | As Chart | Rank – Private, Skill focus – Roll on Random Maintenance Skill chart |
| 16 | QUARTERMASTER | Assault Rifle, Combat Knife | Data Scroll, Inventory Data Patch | Rank – Sergeant |
| 17 | WARRANT OFFICER | Ballistic Pistol, Combat Knife | Data Scroll, 1 Random Data Patch | Rank – Warrant Officer |
| 18 | PSYCHOLOGIST | None | Data Scroll, Personnel Data Patch | Rank – Captain, Skill Focus – Psychology |
| 19 | PRIEST | None | Data Scroll, Personnel Data Patch | Rank – Captain, Skill Focus – Theology |
| 20 | ACADEMY GRAD | Ballistic Pistol, Combat Knife | Data Scroll, Sun Tzu Data Patch | Rank – 2nd Lieutenant |
| 21 | ASTRONAUT | Ballistic Pistol, Combat Knife | Data Scroll, Astronav Data Patch | Rank – Captain, Tech Base – Astronautics |
| 22 | PURE SCIENTIST | None | Portable Scanner | Rank – 2nd Lieutenant, Skill Focus – Roll on Random Science Chart |
| 23 | VEHICLE TECH | Ballistic Pistol, Combat Knife | Vehicle Repair Kit | Rank – Private, Skill focus – Roll on Random Transport Type chart |
| 24 | ROBOTICS SPECIALIST | Ballistic Pistol, Combat Knife | Robot Repair Kit | Rank – Private, Tech Base – Robotics |
| 25 | SYNTHETIC SPECIALIST | Ballistic Pistol, Combat Knife | Synthetic Repair Kit | Rank – 2nd Lieutenant, Tech Base – Synthetics |
| 26 | DOCTOR | Laser Scalpel | Med-Kit | Rank – Captain, Skill Focus – Medical Doctor |
| 27 | INTEL ANALYST | Ballistic Pistol, Combat Knife | Silencer, Data Scroll, Intel Data Patch | Rank – 2nd Lieutenant, INT +1 |
| 28 | PENAL LEGION SLAVE | None | Bomb Collar | One random PC controls the Bomb Collar. |
| 29 | CORPORATE LIAISON | None |   | Roll on the Corporate Occupation Table |
| 30 | WEIRD | – | – |  Roll once on the Weird Table and then roll again on this table. |