Behold the first pencil sketch from Jeff Laubenstein for Barbarians of Heavy Metal: the Patron Saint of Punk, The Rotten One (click for a larger image)…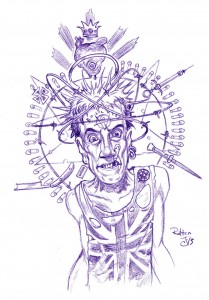 It's a WIP, but you can already see why Jeff was the only artist who could truly realize the bizarre world of the 31st century.
The Kickstarter is almost 40% of the way there after a little over a week and still going strong. Whatever reason you have for not backing BoHM, never mind the bollocks and forget your holiday in the sun! Make a submission to our pretty (oh so pretty) product if you want to be anarchy! God Save the Queen!