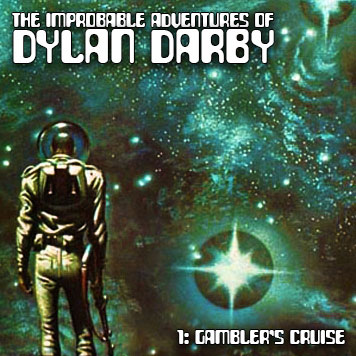 Dylan Darby was born lucky. So lucky that he wins an all expenses paid trip on a luxury starliner in a contest he didn't even enter. His lucky streak continues onboard, as he cleans out even the most seasoned card players with a stunning regularity that defies the odds.
But when the starliner stops dead in the middle of space, light years from the nearest habitable planet, and he is accused of murder and sabotage, it seems as though his luck has run out.
In order to save the ship, its crew and passengers (not to mention his own skin), Dylan will have to unlock a talent he doesn't even know he has. A talent that will change the universe as he knows it in ways he cannot possibly imagine…
The Improbable Adventures of Dylan Darby: Gambler's Cruise, a fully dramatized audio adventure, is now for sale over at RPGNow. This is a demo pilot for a possible Science Fantasy radio series that is being shopped around for national broadcast or a potential Kickstarter campaign to produce a full series of programs for future sale.
It is both a tribute to, and an attempt to revive, the great 20th century American radio tradition that spawned the likes of The Shadow, X-Minus One and Lights Out, a tradition that is even more at home in the modern era of digital media.
Total Running Time: 42 minutes and 53 seconds.